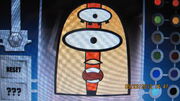 A Brutal Misfit
Power: 100%
Agility: 55%
Stamina: 44%
Size: 83%
Always a misfit for having two eyes instead of one, Gerald ran away from his cyclopes home, and into the mortal world. Everyone ran away from him, and the only place he felt welcome was in the TWE, where he could unleash his rage.
Personality
Edit
Gerald is a sweet cyclopes, but he gets angry whenever some one comments about his two eyes.
Battling Style
Edit
Gerald is a strong cyclopes, but isn't very smart. He gains an advantage in the begining, but is usually defeated.
COMING SOON!
First Season: Season 1
Final Season: TBC