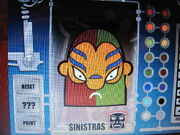 A Ruthless Bounty Hunter
Power: 88%
Agility: 92%
Stamina: 73%
Calls: 78%
Hunter was a ruthless bounty hunter who would do anything for money. The Sinistras heard about him and gave him a call. They may have to pay him $20 every match that he's in, but it's worth having one of the best wrestlers ever lived on their team.
Personality
Edit
Hunter forbid himself to have feeling for anything, even The Sinistras. This makes him an even tougher fighter.
Battling Style
Edit
Hunter uses his strength and weapons to take down his opponent. But his crew has helped him many times.
COMING SOON!
First Season: Season 1
Final Season: TBC