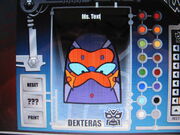 Overloaded With Texting Bills
Power: 37%
Agility: 78%
Stamina: 8%
Texts: 100%
Personality
Edit
Ms. Text is too busy texting to have a personality. She usually relates to herself in the third person.
Battling Style
Edit
Ms. Text is pretty tough when she's not texting. If anyone knocks her phone away, she'll go ballistic and starts pounding them.
Special move: The Final Text: Ms. Text drops about 100 texting bills on her opponent, pinning them to the mat.
"Ms. Text doesn't have time for a life!"
"I should really get unlimited texts."
COMING SOON!
First Season: Season 1
Final Season: TBC