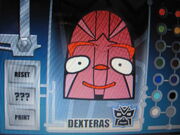 A Tough Pair Of Dancers
Power: 56%
Agility: 62%
Stamina: 54%
Dances: 98%
Born as Amanda and Sarah Caliso, they were twins who loved to dance. They made a succesful dance academy, complete with commercials and advertisements. Eventually they found the TWE, and joined The Mighty Dexteras.
Personality
Edit
Amanda and Sarah are very nice, and will complement you if you try your best.
Battling Style
Edit
They are tough, but usually rely on each other if one of them gets tired. They also use their dancing skills to come on top.
Special Move: The Dancing Downer- They both get into the ring and do a series of dancing attacks together.
COMING SOON!
First Season: Season 1
Final Season: TBC